| | |
| --- | --- |
| South View Hotline: News & Events | Last Updated: 13 August 2013 |
Come to this page everytime you visit the South View website for the latest news on competition & training.
South View British Masters International on Horse & Country TV!

Here are the dates when you can watch our British Masters International on Horse & Country TV
August: 15th/8 pm, 17th/8pm, 18th/1:30pm, 21st/11am,23rd/9pm, 29th/11pm
Home Pony on Target for Record Attendance

It's countdown time for the English Home Pony which kicks off on Wednesday with a clear round and welcome reception followed by four days of absolute top class jumping - as well as lots of of off-pony fun for riders and their 'grooms' alike!
This was one of the first shows that the Britton family hosted after taking ownership in 2005 - a baptism of fire but it has remained a firm annual favourite and we were delighted to retain the event at SouthView for the next four years in the last round of show allocation tendering with BS.
All the best of junior talent from England, Ireland, Scotland and Wales will be here - we have nearly 400 ponies stabling on site! With entries now closed, putting it all onto the computer system is a mammoth task, and that is without all of the other preparation that goes on!! (and has in fact been going on for weeks) Not to mention stocking the cafe and bar....! A highlight of this event is the Team Day - Friday this year - when the four nations go Head to Head, with much patriotism displayed, across all categories of 128 138 and 148 plus an extra 148 opportunity for those riders who have not yet made it onto the International team 'proper'.
Spectators are very welcome to come along and enjoy the unique blend of professionalism and excitement that comes with very talented youth. No charge, just a willingness to cheer loudly! English Home Pony 1st - 4th November 2012
Shed a Light!

With our wonderful new lights just a few weeks old, we are overwhelmed with everyone's response to them! Hourly hires are in huge demand as we can now accommodate late into week day evenings with our remote turn on/off facility - a godsend in the coming dark nights!

We also have a growing demand for polo - facilitated now with the lights tucked neatly into the roof and benefitting from mesh protection! If anyone fancies a go at this, one of our new 'regulars' offers beginners sessions that look great fun and there are special rates for college students.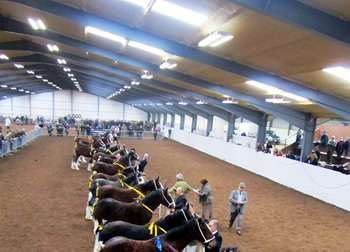 Pictured: the recent Shire Society sale. Over a hundred Shires and Clydesdales came forward for this annual event and bidding was brisk at the following young stock and foal auction (very hard to get on with our work and not buy one!!) We were delighted to welcome near neighbour Mary Worall to spectate at this show and she brought with her a picture of herself in 1948 with the Shire she tended then in her post war 'Land Girl' role. She was not impressed with modern tail dressing fashions but otherwise enjoyed the day. Good to see so many putting in the effort to promote these sadly declining breeds of gentle giants. The Shires have joined us at SouthView for over twenty years and we hope to be still welcoming them for the next twenty!
The Future Gets Even Brighter for SouthView!!

We are delighted to announce that we have made a successful bid for funding from Sport England via the British Equestrian Federation in their latest (and we believe last) round of Capital Funding opportunities, which have run alongside London 2012.

We have been awarded £25,000 including VAT, which together with a lot of help from our bank in terms of a loan for the other 2/3 of the total cost, will allow us to renew our badly leaking collecting ring roof and update our sadly aged lighting system. Hence we are assured a future for our wonderful indoor facility with many more hours, days and years of riding at all levels, in all disciplines and at all times to come.

The lighting will have remote control, which means we no longer have to turn away working riders, desperate to hire on cold winter evenings, when we can't always make staff available. The more robust and better positioned system will also mean we will be able to welcome some new horse sports to the centre and we also aim to offer more clinics and demo type events.

The light level will also facilitate filming and we hope in that way to boost our attempts to bring horse sport back into the hearts and homes of those not necessarily active in equestrianism, as we have begun with the Charles Stanley British Masters.

We are confident that the investment will reap massive benefits for all SouthView users, both current and, we hope, growing for the future. This is all very in line with Sport England's own stated objectives: more people enjoying horse sport or staying in horse sport; more satisfaction from that sport, and more talent development opportunities!

We are immensely grateful to the British Equestrian Federation and Sport England for this much needed 'Leg-up'!! The trick is now to fit it all in - We have just a tiny time window in which to carry out the work so as not to impact any planned indoor events in the coming season, so we have had to set to at once. The old roof is in a massive skip already, the lighting engineers are on standby and if 2012's awful weather just holds off a bit so we can get the new roof on, we aim to have the whole thing finished by the end of September!!
Newcomer and Fox Second Rounds 6th-8th July (Day 1)
The rain has tried its hardest to wash us all away but not to be daunted, the day has seen some great riding on the unfazed Charles Britton outdoor surface and everyone is still smiling! With a massive entry for the Newcomer tomorrow, we look to be set for another great day. Spectators with large umbrellas welcome!!
The Charles Stanley British Masters CSI3* International 29th June - 1st July 2012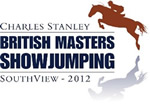 The Charles Stanley British Masters 2012 once again topped all expectations with a stunning display of showjumping over three days. The event culminated in the Grand Prix itself, which was thrilling to the last rider, Joe Clayton, who, on board Mr Darcy, pipped John Whitaker to take not only the Charles Stanley British Masters title but also The Leading Rider - his second year with this accolade. The achievement earned him his cut of the £31,000 prize fund plus a fabulous Caribbean holiday, courtesy of D'Montt Equestrian. As if all of that were not sufficient reward, Joe also took home a top of the range Stubben saddle of his choice, donated via Michael Marren Saddlery who is the regular saddler in attendance at SouthView, and awarded to the highest placed rider aged under 25.

Irishman Richard Howley on Zolandra took the Aston Martin Speed Challenge in style, over 2 seconds ahead of local rider Keith Shore who is certainly no snail himself! Other world ranking successes were Abdullah Al Sharbatley on board Sultan V, whilst the Harveys of Oldham 1:45 on day 2 saw Daniel Moseley win on Billy Grand, followed home by another Billy horse, Billy Congo, partnered by William Funnell.

Six nations participated in the event, ninety riders and almost 200 horses. Many of the riders were under 25 and if the weather was not always perfect throughout, making parking the large spectator crowd on the adjoining grass more 'challenging', the going in the Charles Britton arenas was perfect throughout and Peter Gillespie's exciting tracks had the audience on the edge of their seats, with riders and non riders alike completely gripped!

On the final day we were delighted to announce the Olympic team - very much a privilege - and we wish the team every success in Greenwich, especially Peter Charles who was competing with us at the time.

Thank you so much to all of our sponsors: title holders Charles Stanley whose enthusiasm is unbelievable, to the NWDA (now sadly defunct and therefore lost to the event next year), to Harveys of Oldham, Qsport Horses and Quigley Horseboxes, D'Montt Equestrian, Independent Asset Management, the London Film Museum and new supporters Aston Martin, who honoured SouthView by choosing this event as their very first foray into the equestrian world.

We start to look forward now to next year - sponsorship dependant of course!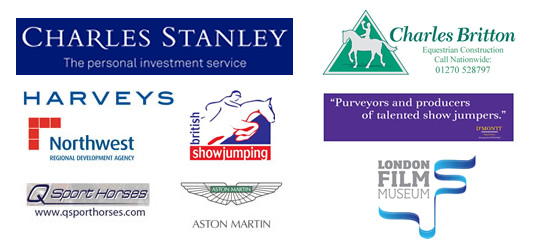 PRESTIGIOUS BRITISH MASTERS 2012 IS 'GOOD TO GO' FOR SOUTHVIEW!
Yesterday British Showjumping formally announced that the British Masters 3* International Show is once again to be held at SouthView in Olympic year, 2012.
With slightly more than this year's 16 weeks to organise the event, we are all really excited as we take this massive second step towards more International competition in England.
See the following BSJA news item for full details of the announcement.
http://www.britishshowjumping.co.uk
Remarkably a number of top riders have already expressed their wish to attend, we have tables booked for VIP hospitality and Trade Stands and several spectators have asked if they can buy tickets as Christmas presents! (We are working on that - certainly it would make a very special Christmas gift so we will try to oblige.)
Such are the FEI rules and hence the cost of mounting the event, the show's existence is entirely dependant on sponsor support and we are absolutely delighted at the comments of Charles Stanley and The North West Development Agency, as they once again pledge their backing.
Further sponsors are however required and we invite all interested parties to contact us to find out more about the very real, positive and unique marketing opportunities that the event can offer. Details of all levels of sponsorship packages can be obtained by contacting Linda Wright or Rebecca Britton via email office@southviewarena.com or telephone 01270 528684.
As we lay our plans in place for 2012, we have to thank everyone who in 2011 made this show the gem it was. We look forward to welcoming everyone to the Charles Stanley British Masters at SouthView 2012.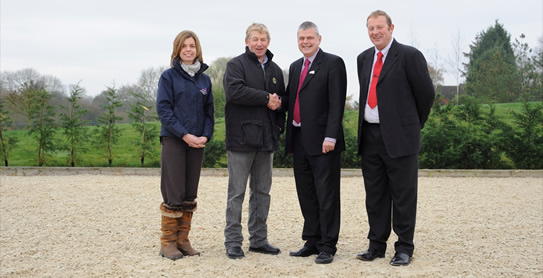 The NWDA's Sheldon Phillips meets with Nick Skelton and Charles at his Charles Britton built Stable and arena facilities to announce the NWDA and Charles Stanley's support for 2012.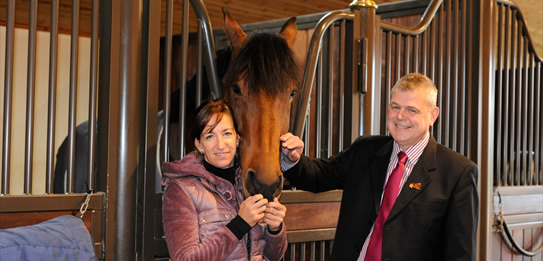 Laura Kraut introduces the NWDA's Sheldon Phillips to a woolly, resting Big Star. As one of Britain's big hopes for an Olympic gold let's hope Laura has no plans afoot to steal him from her partner Nick Skelton!
Combined Training Championships 2011
After yet another popular series of Combined Training the Championships were held on October 1st. With strong entries in all classes and fantastic prize money, rugs and sashes at stake it was inevitable that competition would be strong.
The day kicked off with Prelim 18 and 2'3'' jumping. Here Helen Waites took the class by storm, gaining a dressage score of 180 that placed her so far ahead of her rivals that despite an unfortunate four faults show jumping she still claimed the class with an overall score of 176. This was aboard Rowangarth Rhydian, a 14hh home produced pony. This pony had never jumped competitively before our Combined Training Series, and with other wins throughout the season the pair were very deserving winners. Helen also claimed second in this class with another ride Havah Ibn Rhydian, this time finishing on her dressage score of 171. Sue Stratton and Thunder Over Arizona took third. A dressage score of 173 left them second after the first phase, but an unfortunate four faults show jumping left them a fraction behind Helen's second ride. Since the Championships Helen has told us that it has always been a goal of hers to win a rug, and undoubtedly this is something she achieved in style on October 1st. After posing for photos in her rug from Class 1, Helen went on to post another solid dressage score, this time in Prelim 14. Her score of 180 meant she had two fences in hand going into show jumping, and so despite another four fault round this beautiful pony finished the day as Champion of both prelim classes. Second in this class was regular competitor Sharon Mullarkey and Ardfield Max Appeal, with a score of 171. Caroline Leigh and Westfield Arnie took third.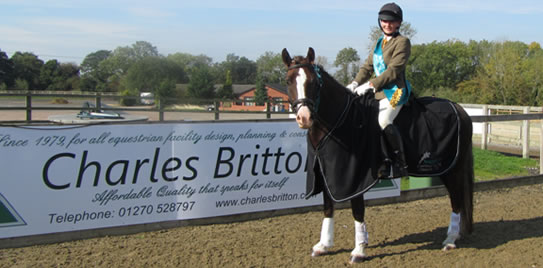 Helen Waites and Rowangarth Rhydian, who proved unbeatable in both classes they entered,
modelling one of the two rugs they won at the Championships
Class 3 – Novice 25 and three foot jumping went right to the wire, with ultimately just 3 marks separating the top three. After dressage it was Emily Watts who led the way with a beautiful dressage test that was awarded 181 by judge Sarah Dobell. Sophie Sloane and Kim Lee were not far behind with 179 and 176 respectively. The jumping in this section proved to be extremely influential as an early clear by Sophie Sloane meant that Emily Watts had to jump clear to retain the lead. An unfortunate four faults by Emily and Riona G meant that Sophie Sloane and Tomopolitan became the Champion, finishing on their dressage score of 179. Emily took second, with Kim Lee and Tio Pepe also jumping clear to finish in third on their dressage score of 176.
The show jumping in Class 4 proved to be tricky, with only two clear rounds recorded, both by regular entrant Helen Waterhouse. However, an outstanding dressage mark from Harriet Adams and Khalida of 184 meant that despite a four fault show jumping round she still stayed ahead of both of Helen's rides to become the Novice/3'6'' Champion. Although Emma Rarity posted the second highest dressage score, Helen's two cool headed clear rounds allowed her to move ahead of Emma and claim second with Killpatrick Condios, as well as third with Franzipan.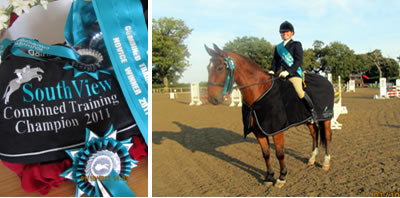 And so we take pleasure in announcing our Combined Training Champions 2011:
Prelim/2'3'' Champion – Helen Waites and Rowangarth Rhydian
Prelim/2'6'' Champion – Helen Waites and Rowangarth Rhydian
Novice/3' Champion – Sophie Sloane and Tomopolitan
Novice/3'6'' Champion – Harriet Adams and Khalida
Many congratulations to all qualified combinations, and above all to all those placed and our worthy winners. Combined Training will run again next year and we hope to welcome many of you back to what will no doubt be yet another exciting series!
Stars Descend on SouthView

No less than 75 world class riders have booked to compete in the Charles Stanley British Master FEI CSI3* International Show Jumping event taking place at SouthView July 1st-3rd.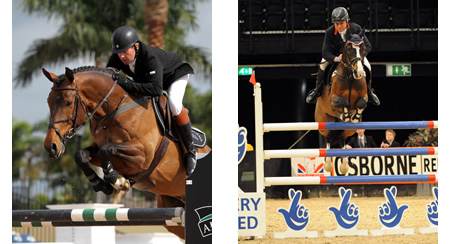 18 of Britain's top 30 are attending including number one, Guy Williams from Kent, looking for his first Olympic opportunity, and such established star names as Nick Skelton, John Whitaker, William Funnell, Robert Whitaker, Tim Stockdale, Tina Fletcher, Scott Brash and Geoff Billington.

The Irish are sending a serious contingent of ten riders with Dermott Lennon waiting in the wings to make eleven! Amongst other foreign nations participating are Belgium, South Africa, Sweden, and Switzerland, and a youthful team from the USA includes Catherine Passmore and Rock legend's daughter Jessica Springsteen, both of whom currently train on the Charles Britton Equestrian Construction designed and built yard of Laura Kraut and Nick Skelton in Warwickshire.

Spectator tickets are selling with increasing speed, as are the tickets for the Saturday evening party which includes a first class barbecue, live music karaoke and disco (all under cover if weather not fine - though the order for sunshine has been confirmed!!!)

'Challenge Anneka' has had nothing on the work needed to mount a show of this status in just sixteen weeks but we are getting there. Hope you will join us at this truly inspiring event and that it will be one of many similar occasions for the future.

Tickets bought before 18th June are entered into our draw for a behind the Scenes tour with a rider of your choice for several top names who have volunteered to be on offer! (link to attached) and several pony clubs are taking up our very special offer for tickets.

With £105,000 of prize money to fund and a minefield of other costs, we are extremely grateful to our sponsors at this event. Please take a look at their information. All have been incredibly understanding and supportive of the problems we have faced in mounting the show in such a short time and they deserve your support in return.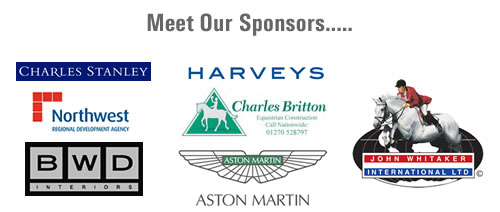 The Charles Stanley British Masters FEI CSI 3* International Show Jumping Competition

With The Charles Stanley British Masters FEI CSI 3* International Show Jumping Competition now just three weeks away preparations continue apace. We now have confirmed 15 of the British top twenty riders including those currently standing in positions 1 and 2: i.e. relatively new boy on the block Guy Williams and enduring expert Nick Skelton. Not to mention such top names as John Whitaker, Tim Stockdale and Geoff Billington. We have also been able to give International opportunity to a whole host of other British talent. No less than nine other nations will be battling the best of the Brits in what promises to be a fabulous event. Spectator and VIP) hospitality tickets are available on line or at the centre but are selling out fast - don't miss out on this unique opportunity...............
Watch and Be Inspired!!
Tickets for the Saturday night barbecue are also selling fast - all are limited availability. Please don't leave it too late and be disappointed
STOP PRESS: Charles Stanley British Masters to Include Prestige Pony Classes!
Mid way through hosting the Summer Premier Pony Show seemed like an appropriate time to get the unexpected request to host extra classes at the forthcoming Charles Stanley British Masters International 3* event - as the classes in question are to be top pony classes!
SouthView has been asked to add in the Pony Viewing Trials and the John Whitaker International Winter JA Classic Championship and as we are passionate supporters of pony jumping, we are absolutely delighted to do so. The cream of pony riders can now enjoy being in the company of the cream of senior riders....... and both parties seem to be enthused at the prospect. Irishman Dave Quigley who rides our own International horse, the Andiamo sired Ulot, was quick to comment what a rare and exciting opportunity it was for senior riders to be able to see the up and coming young riders in action. Dave and wife Shaz have a young daughter of their own just starting out in her riding career and both were prolific pony riders themselves, so their enthusiasm is understandable. However, it was a sentiment we found echoed all around when the announcement was made during the Premier show - the response of the young riders and their parents was brilliant and the thought of all the extra hard work and logistics challenges that the addition will mean faded away in the face of the wonderfully positive comments we immediately had back.
For ourselves with our passionate aim to bring more international competition back to England including a hope for International pony competition, it is a perfect addition to an already perfect show.
Preparations for the International continue apace with time shrinking rapidly and as the formal FEI rider invitation process trundles on its set tracks, we hope to be able to announce just who will be attending shortly.
In the meantime we are still welcoming any sponsorship or trade enquiries from organisations who can benefit from the very positive marketing opportunities this unique 2012 Olympic qualifying event has to offer.
All sponsors supporting the show will also benefit from promotion at National shows at SouthView for the subsequent twelve months and with events here literally every week, and a number have already taken up our offers, despite the painfully short time we have had in which to organise this event. We will be putting up full details of these in a 'meet the sponsors' section here on the web site very shortly. Anyone wanting to join in to promote themselves and help make this great show a success and first for the future at the same time, please contact Linda on 01270 528684 or office@southviewarena.com.
A final note: Spectator tickets are still available for all three days, but hospitality tables are now fast disappearing. If you want to visit this show in VIP style, we can only advise - be very quick and
make your booking as soon as possible!
Charles Stanley confirms British Masters Showjumping Sponsorship for 2011

SouthView Equestrian Centre is delighted to announce that we have signed a contract with Charles Stanley to sponsor the 2011 Charles Stanley British Masters Showjumping Event in July.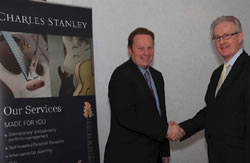 The Charles Stanley British Masters will take place over three days, 1st – 3rd July, and will invite riders from across Europe and the World as well as some of Britain's finest showjumpers. This is the second year that Charles Stanley has sponsored the British Masters Showjumping Event, and will be our first year as the host.

As well as offering in excess of £100,000 prize-money, the competition has been selected as a London 2012 Olympic Games qualification competition, which, alongside Hickstead's Royal International Horse Show's Meydan FEI Nations Cup and the King George V Gold Cup, will make up Britain's three qualifiers.

Commenting on Charles Stanley's commitment, Group PLC Director, Peter Hurst who signed the contract on behalf of the firm said, "We are very pleased to be sponsoring such a prestigious event on the showjumping calendar again, particularly with the London 2012 Olympic Games just around the corner. It is wonderful to be part of this event that will not only raise the profile of British showjumping, but also contribute significantly to the local Cheshire economy by bringing in new visitors for the three days of international competition."

SouthView Equestrian Centre owner Charles Britton commented further, "We are delighted to have Charles Stanley onboard again for this year's competition. Their support and enthusiasm is inspiring and a huge boost, not only for this event but for the sport generally. This promises to be a very special show with truly world-class jumping, and we have had an extremely positive response from both the horse world and the public generally. As a year- round competition venue it is an honour to be running such a high profile event at SouthView Equestrian Centre. We fully intend this to be the first of many and hope that other UK venues will follow our lead to offer more international competitions in the UK in the future."

Head of Communications for British Showjumping, Maria Clayton, was also pleased that Charles Stanley has committed to the British Masters again, adding, "Working with the Charles Stanley team and SouthView Equestrian Centre to continue building this FEI 3* Grade International show is something our office is committed to. Staging strong international competitions in this country will assist with our performance pathway programme and hopes for delivering medals for Great Britain."

Charles Stanley will host clients throughout the three day showjumping event from around its 33 strong branch network, including a strong presence in the North-West from the well established Manchester office, and the newest Charles Stanley office in Liverpool which opened for business in August 2010.

Tickets will go on sale on April 8th from this website. Trade stand enquires please call 01270 528684
BREAKING NEWS...BREAKING NEWS....BREAKING NEWS...

SouthView is honoured to have been selected by BS with the backing of the North West Development Agency to host the prestigious British Masters competition

This will be the ultimate feature class of a three day 3* International Show, taking place on July 1st -3rd.

Watch this space for details of advance spectator tickets (ticket entry only)

This promises to be a very special event with absolute world class jumping – a real jumping show.

Tables will be available in our Hospitality tents serving first class food and wines – why not make up a table of friends or business associates and enjoy some first class sport in our welcoming venue.

Expect an electric atmosphere with some hard fought competition for the prize fund of approaching £100,000!!

Opportunities exist for advertising and sponsorship. (The event is to be featured on Sky Television and Horse and Country)

Please contact Linda or Charles on 01270 528684 for all commercial enquiries. Exclusive trade stand space also available.
Home Pony International October 2010

Wow what a weekend! Thanks to every one of you for making this truly fabulous show.

This, our sixth HPI since taking over ownership of the Centre, was probably the best HPI yet ....... and that is certainly saying something. This show - our favourite show of the entire year - just grows and grows. Course builder, Peter Gillespie, as usual set some challenging courses and the standard of jumping was absolutely incredible. 'More challenging than the Europeans by far' was commented more than once. The atmosphere was fantastic throughout so parents, supporters, grooms and above all riders - give yourselves a huge pat on the back: what a fabulous show you all made!

Thank you for all your warm comments and support for our continuing to host this event in future - we look forward to welcoming you all again next year.........if not before!

Busy as we all were, a few have already called for contact information for photos and videos, so here are their sites. Please do support these companies as they work very hard for long hours to be able to offer the service to you and really do deserve your custom. Use them or lose them!
Photographer - www.rtiphotography.co.uk Video - www.equesterlink.com